To sign up for our monthly newsletter, please email:
Please note: We are AUSTRALIAN distributors and can not supply overseas
$33.95
AUD
Category: Natural History
Enables you to study how animal anatomy works, using colour, cross-sectional diagrams to reveal bone structure, internal organs and muscular structure. This volume shows how animal bodies have developed amazing physical characteristics in order to survive. It is suitable for 8- to 12-year-olds for home or school. ...Show more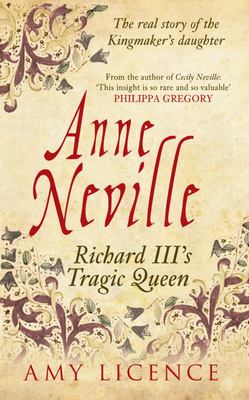 $32.95
AUD
Category: Biography
Shakespeare's enduring image of Richard III's queen is one of bitterness and sorrow. Anne curses the killer of her husband and father, before succumbing to his marriage proposal, bringing to herself a terrible legacy of grief and suffering an untimely death. Was Anne a passive victim? Did she really jum p into bed with the enemy? Myths aside, who was the real Anne? As the Kingmaker's daughter, she played a key role in his schemes for the throne. Brought up in the expectation of a glorious marriage, she was not the passive, manipulated pawn of romantic legend; in fact, she was a pragmatist and a survivor, whose courage and endurance were repeatedly pushed to the limit. In 1483 Anne found herself catapulted into the public eye and sitting on the throne beside Richard. The circumstances of their reign put unprecedented pressure on their marriage; amid rumours of affairs and divorce, Anne died mysteriously, during an eclipse of the sun, just weeks before Richard's death on the battlefield. This fascinating and elusive woman is shrouded in controversy and unanswered questions. Amy Licence reassesses the longstanding myths about Anne's role, her health and her marriages, to present a new view of the Kingmaker's daughter. ...Show more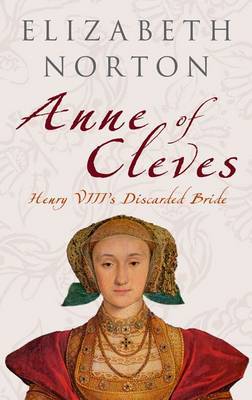 $28.95
AUD
Category: History
The first major biography of Henry VIII least favourite wife - but the one who outlived them all.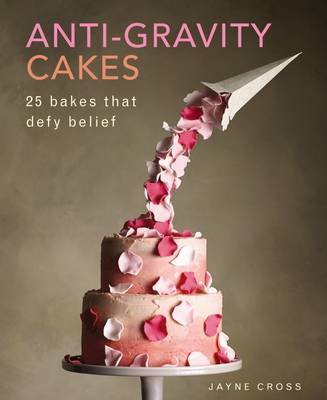 $29.95
AUD
Category: Cookery
There's a new kind of cake that is causing a sensation - cakes that don't make gravitational sense, and which people won't believe are real. Awe-inspiring and often amusing, they are a fantastic way to create a show-stopping conversation piece, as well as of course offering something delicious you can s hare and eat! Here you will find surprises such as a suspended tap over a bubbling bathtub full of yellow ducks, or a watering can being poured over pretty cake flowerpots, and a giftwrapped box being ribbon-tied by a bluebird. And of course there are fun cakes for children (of all ages), from an impossibly stacked set of blocks to cascading sweeties. ...Show more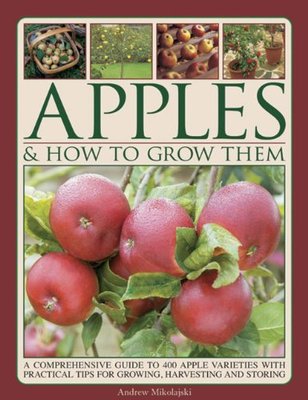 $26.95
AUD
Category: House & Home
Apples have long been a popular fruit, and can easily be cultivated in your own garden. This authoritative book explains the best way to plant, look after and harvest your fruits.
$17.95
AUD
Category: History
In 1900 a British motoring enthusiast, F. R. Simms, had the idea of mounting a machine-gun on the front of a quadricycle and installing a small petrol engine at the rear. His machine spurred on others to design similar "war cars", and the armoured fighting vehicle (AFV) was born. This book is the sto ry of subsequent developments, and starts with an authoritative history of all types of AFV from from 1900-1945, covering a wide range of wheeled, tracked and semi-tracked vehicles. From the days before radio communication through to the end of World War II, the author highlights the varied roles AFV's have played, as well as how these adaptable vehicles have evolved and developed over time. This introduction is followed by a substantial A-Z section that forms an illustrated guide to over 90 armoured fighting vehicles, many of which evolved during the wartime eras. It discusses many historically important vehicles and also some madcap designs, such as those developed by the British for the Home Guard. The numerous illustrations show the diversity of these types, such as the Rolls-Royce Armoured Car, the Sexton 25pdr Self-Propelled Gun and the Buffalo LVT Amphibious Assault Vehicle. Detailed specification boxes are provided for every AFV. These contain information about each vehicle's official name, service date, country of origin, number of crew, weight, dimensions, armament, armour thickness, powerplant, speed and range. This highly illustrated reference book provides both enthusiasts and historians alike with key information about the diverse and multi-tasking armoured fighting vehicles in use throughout the first half of the 20th century. ...Show more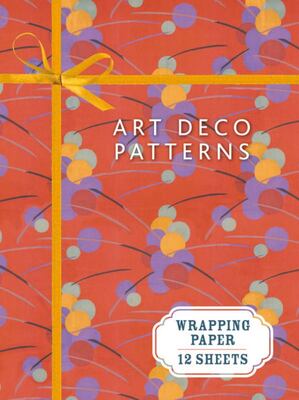 $19.95
AUD
Category: Notebooks - Dingbats | Series: Wrapping Paper Bks.
Twelve sheets of gift wrap, featuring Art Deco designs from the Victoria & Albert Museum, LondonTwelve sheets of 19.5 x 27.5 inch wrapping paper are folded into a paperback book, which has a notepad binding for a clean, easy-tear off. The Deco period began in 1910 when Art Nouveau slid out of fashio n. Its highpoint was in 1925 at the Paris exhibition, the Exposition Internationale des Arts Decoratifs et Industriels Modernes, and the style culminated at the New York World's Fair in 1939. Art Deco brought an exotic, vibrant style to the most precious and exclusive works of art as well as to mass produced objects which were widely available. It became a universal phenomenon transforming the look of everything from factories and cinemas to fashion and photography, and is arguably the most popular style of the last century. ...Show more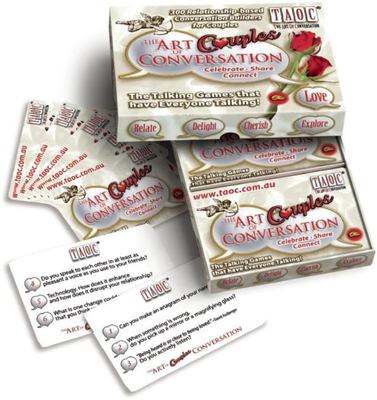 $19.95
AUD
Category: Hobbies General
With 300+ wonderful ways to connect & reconnect via enjoyable, balanced communications, the Art of Couples' Conversation is the perfect way for couples of all ages and stages to delight in each other's company as they reach a deeper and closer understanding of each other, themselves and their relati onship. Discover and rediscover, refresh and revitalise, laugh and love. Celebrate both differences and things in common while connecting and reconnecting in a multitude of new ways. The Art of Couples' Conversation is the latest title in a best-selling range of communication 'games' that have been extensively researched and developed to grow relationship resilience and longevity. Professionally accepted as a resource for use in therapy and education, The Art Of Couples' Conversation helps partners of all ages and stages connect and reconnect lovingly and respectfully, even when the subject may be a difficult one. Through guided and reflective communications, couples are encouraged to enjoy each other's company through communication. ...Show more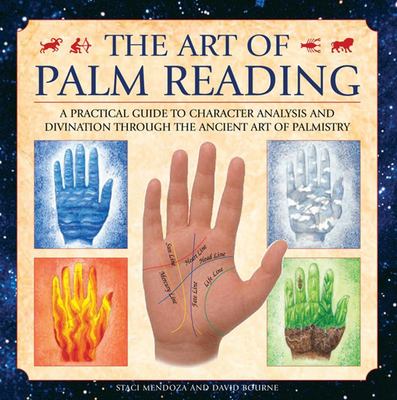 $18.95
AUD
Category: Mind, Body and Spirit
This is a practical guide to character analysis and divination through the ancient art of palm reading. It is a practical guide to palm and hand analysis with clear photographs and illustrations to help you identify lines, shapes and skin patterns. You can discover the secrets of your destiny and interp ret your character, and that of your family and friends, with the ancient and mysterious art of palmistry. It is a fascinating clues to the character types and personality traits, which can be revealed by the palms. It includes step-by-step sequences on how to conduct your own palm reading session. A compelling book, which will give you the power to gain insight into your own life, and those of your friends and family, illustrated throughout in over 200 evocative and practical images. Each of us has a distinct pattern of lines, mounts, whorls and signs on our hands that can change throughout life, giving fascinating insight into the workings of our head, heart, fate and fortune. Co-written by a professional palm reader, this intriguing handbook reveals the secrets of hand and palm reading, giving you a thorough introduction to all the basic aspects of palmistry. The ancient art of palmistry has its roots in the East and dates as far back as 3200bc. The practice was much respected by the Victorians and, today, its mysteries are regaining popular recognition. You can learn how hand shape can determine character type, how lines can give accurate dates for life events, and how skin patterns can even reveal personality traits. After reading this book you will never look at a pair of hands in the same way again. ...Show more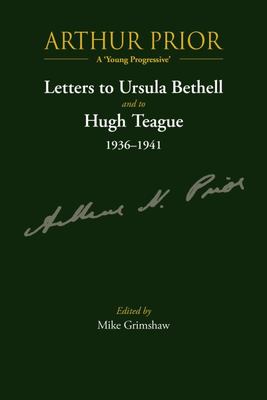 $65.95
AUD
Category: New Releases
Arthur Prior (1914-69), the founder of 'tense logic', is regarded as New Zealand's greatest 20th-century philosopher. It is commonly believed that the philosopher J.N.D. Findlay lured a young Prior away from theology and his training for the ministry to the world of philosophy. However, as Prior's lette rs to the poet Ursula Bethell and to his communist cousin Hugh Teague now make clear, he did not simply abandon theological study in order to immerse himself in philosophy - nor does it seem that it was a matter of his disbelieving in theology one minute and believing in philosophy the next. Until World War II, and, it appears, for a time afterwards, Prior seriously considered a career as a religious journalist, especially when travelling and living on the Continent and in England with his first wife, Clare Hunter. During these years, Prior wrote widely on theology and contemporary Christianity.In his correspondence with Ursula Bethell - who called him one of her 'young progressives' - and Hugh Teague, Prior discusses in detail his religious and theological thought and his personal beliefs and influences, including his shift from formal theological study into a world of journalism and philosophy. These previously unknown letters, which cover the years from 1936 to 1941 and his time in Dunedin, Wellington, France and London, chronicle a substantial part of a fascinating period in Prior's development, both theologically and philosophically. Prior's letters have been transcribed and annotated for this volume by early Prior scholar Mike Grimshaw. An essay by Mike Grimshaw and an introduction by Prior expert Jack Copeland provide further context, including a brief introduction to tense logic. ...Show more
$59.95
AUD
Category: History
'Arthur himself, having put on a coat of mail suitable to the grandeur of so powerful a king, placed a golden helmet on his head, on which was engraved the figure of a dragon; and on his shoulders his shield called Priwen ...Then girding on his Caliburn, which was an excellent sword made in the Isle of Avalon, he graced his right hand with his lance'. The Historia Regum Britanniae, or History of the Kings of Britain, was written in around 1136 by Geoffrey of Monmouth and purports to tell the story of the kings of Britain from the settlement of the island by the Trojan Brutus, grandson of Aeneas, through to the seventh century when the Anglo-Saxons had taken control of much of Britain. History of the Kings of Britain was highly popular during the Middle Ages and copies spread across the whole of western Europe, with over 200 manuscripts surviving from the period. It went on to influence texts into the sixteenth century and was one of the first to weave together the legend of King Arthur as well as the stories of King Lear and Cymbeline, both later immortalised by Shakespeare. Although it purports to be history, History of the Kings of Britain has long been recognised as thoroughly unreliable and considered to be a literary work of national myth instead. In this book, Dr Miles Russell takes another look at Geoffrey of Monmouth's work and argues that there is verifiable archaeological and historical information to be found there, possibly deriving from a lost British source also used by other Dark Age texts. ...Show more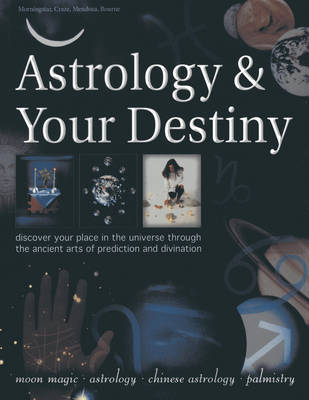 $17.95
AUD
Category: Mind, Body and Spirit
This title helps you discover your place in the universe through the ancient arts of prediction and divination. It is an insightful guide to a range of classic divination techniques from moon magic to palm reading. Tap into the world's cosmic powers to help you make decisions and fulfill your destiny. I t is a clear and comprehensive guide that explains and demonstrates the mystical arts in a simple-to-understand way. You can discover your ideal career, and learn how to understand and interpret your financial future, your changing health, and the quality of your life. It features over 250 beautiful photographs and illustrations capture the essence of the mysterious arts and demonstrate the skills you will acquire. Unlock the secrets of the ancient arts of divination to gain remarkable insights into your life and possible future. This enlightening book is divided into four sections: Moon Magic, Astrology, Chinese Astrology and Palmistry. Here you will understand how the magic of the moon influences your moods and your relationships. Discover how your birth date pinpointed on an astrological chart, or the lines of the palm of your hand, indicate the personality traits that will shape your decisions and the journey you take through life. Fully illustrated, this intriguing book explains three systems of divination to furnish you with important skills and wisdom that will help you manage your life more successfully. ...Show more